In northern Poland, there are three words that will haunt you every step you take: the Teutonic Order. The Order played a huge role in the history of Poland. If there is one date that every Polish person remembers from the history lessons, it's probably 1410: the Battle of Grunwald, when the Polish-Lithuanian army defeated the Teutonic Knights, putting an end to the Order's expansion.
Actually, the battle is so important for medieval history enthusiasts that is staged every year on the fields of Grunwald on the 15th of June. This year it will be reconstructed for the 25th time! You can learn more about the battle and the clothes that people wore in those times from this YouTube channel.
But what's with these Teutonic Knights? To cut the long story short, the Order of the Brothers of the German House of Saint Mary in Jerusalem, known as the Teutonic Order, was brought to this area by Duke Konrad I of Masovia, because he needed help with his crusade against the pagan Slavic tribes. The Order dominated the area and soon built a religious state and a great military power.
Their territory was literally sprinkled with fortresses. The knights built their fortresses no farther apart than within a day's ride away. Most of them were built according to the same framework. Many centuries later, these castles are still here. Some of them are not well preserved, while others have undergone restoration.
The most outstanding castle complex is the one that was built in the capital city of the Teutonic State, Marienburg (nowadays: Malbork). It is where the Grand Master moved from Venice. Malbork Castle is considered to be one of the most significant constructions of medieval Europe and it is a UNESCO Heritage Site.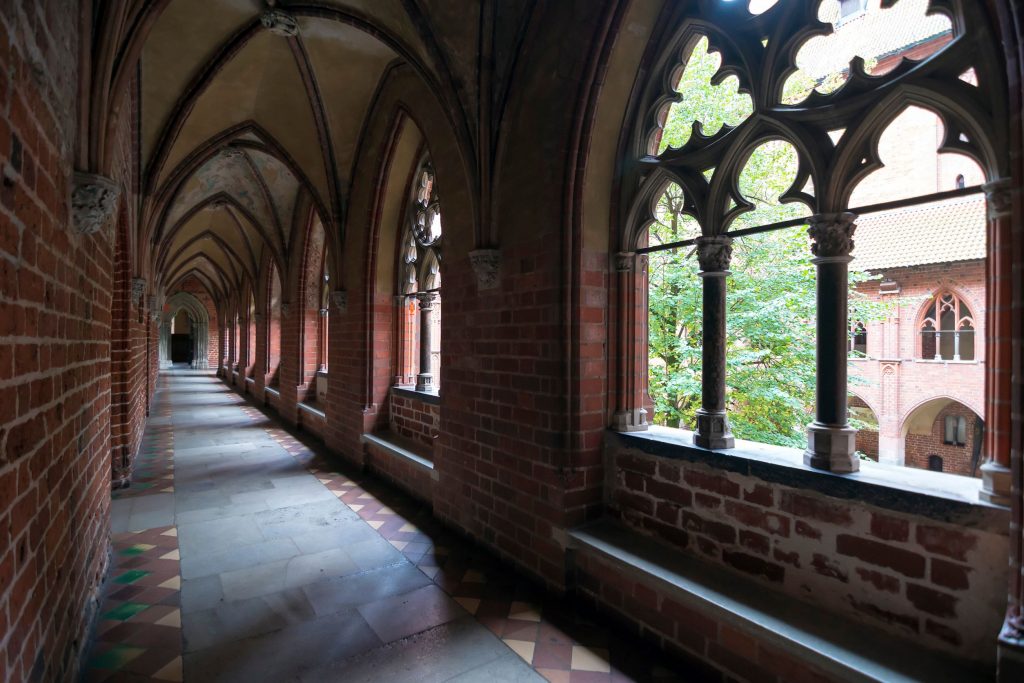 The castle is huge and impressive. It is actually the largest castle in the world (measured by land area) and the biggest brick building in Europe! Just to give you an idea, it is more than twice as big as the Prague Castle and four times as big as the Windsor Castle.
It underwent a meticulous restoration in the 19th/20th century. Many conservation techniques that are nowadays widely used and believed to be standard were developed during the restoration of this castle. The detailed documents that were made in the process turned out to be very useful after World War II, when the castle was destroyed and needed to be rebuilt.
Malbork Castle is definitely a must-see place, which is why it is on the itinerary of both of our small group tours: the Ultimate Poland Tour and the Polish Delight Tour.